A largely unknown startup has developed a way to turn subjects captured on two-dimensional video into virtual three-dimensional models.
Think about that for a moment. It has the potential to usher in a future where life-sized virtual versions of your Tai Chi instructor or English tutor visit your home. Concerts could take place on your tabletop, and zoo animals could roam an inner-city classroom. Heck, if the adult industry has its way, the tech could even be used to beam a digital porn star into your bedroom.
DoubleMe, based dually in the US and South Korea, was founded by Albert Kim, a machine vision expert with 23 years of experience helping computers and robots "see" through cameras. The startup hopes to revolutionize the burgeoning virtual reality (VR) and augmented reality (AR) industries by enabling just about anyone to create 3D content that's viewable through a head-mounted display (HMD).
While the porn industry may have a certain allure, Albert is thinking bigger. He wants DoubleMe to become the YouTube of VR and AR content.
Slow and expensive
The current VR boom was kicked into high gear after the US$2 billion acquisition of Oculus VR by Facebook last summer. Consumer tech giants Samsung and Sony have entered the VR fold and Microsoft knocked the internet's collective socks off in June with an augmented-reality take on Minecraft.
The tech industry may be bullish on these futuristic technologies, but there's still a major hurdle when it comes to convincing the general public – lack of content.
Oculus is finally slated for a consumer release in the first quarter of 2016, but the company offers fewer than 920 downloadable games, demos, and "experiences" (virtual tours or videos shot with 360-degree cameras). That's pretty slim pickings for a platform that's more than two and a half years old, especially when you understand its potential beyond gaming.
There are two big reasons why VR and AR content is so hard to come by: it's extremely expensive to create 3D models from scratch, and the process can take months. DoubleMe isn't just making it cheaper and quicker – its 3D capture technology will be available for free, and it can generate 3D models in real time.
Quantity over quality
DoubleMe is currently building studios in Seoul and Tokyo where people will be invited to create virtual 3D models of themselves. Using a blue screen and an array of eight cameras, DoubleMe's "HoloPortal" 3D capturing algorithm converts each frame of video into a multi-layered 3D model. It's powerful enough to preserve everything from facial expressions to the folds in your clothing. The 3D models captured by HoloPortal can then be inserted into video games, 3D animation, or your living room via a HMD like HoloLens.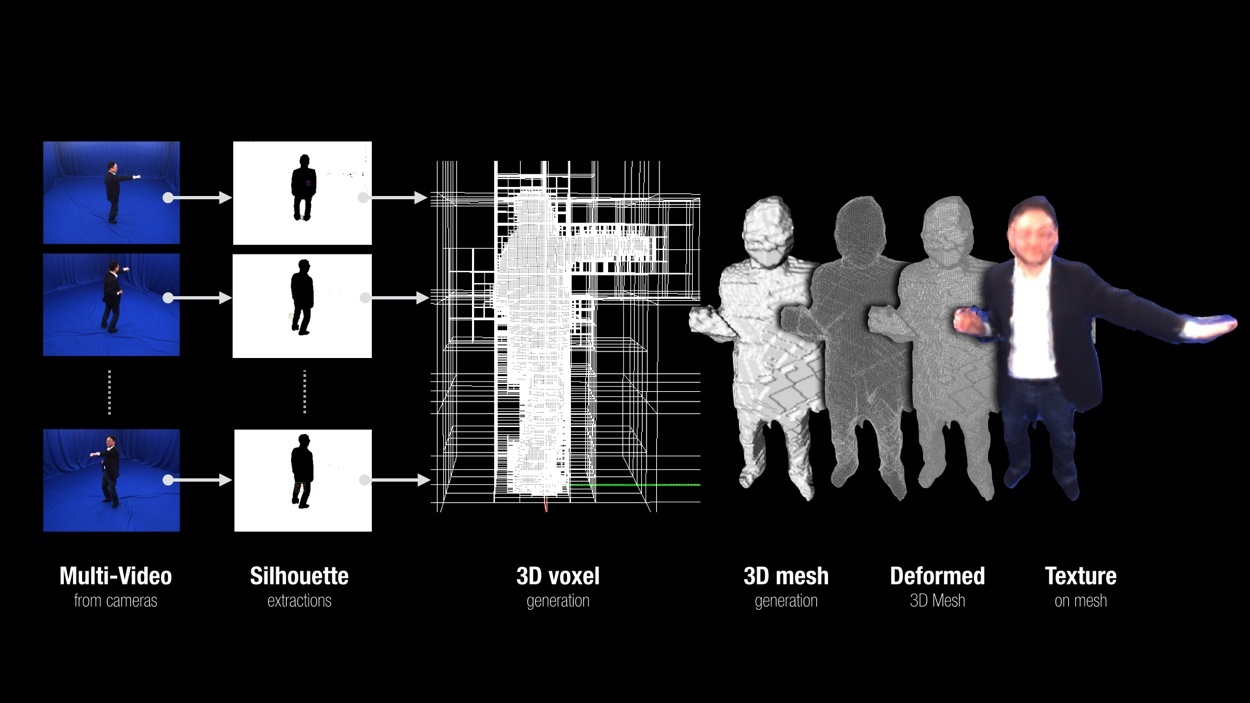 Higher quality cameras produce higher quality 3D reproductions – but quality isn't necessarily the most important thing for DoubleMe.
"VR content doesn't have to be perfect and polished, but there absolutely must be more of it," Albert says. "People consume short, user-generated content on YouTube all the time. Anyone can capture a simple video with their smartphone, talk gibberish, and become a star. VR will be exactly the same – it will need a huge quantity of content, not necessarily huge quality."
For this reason, DoubleMe is developing a cloud-based solution, appropriately dubbed HoloCloud, that will allow users to create their own 3D models without visiting one of the startup's official studios. Again, think of YouTube – the company operates studios where top talent are invited to shoot high-quality videos, but most YouTubers are shooting videos at home with smartphones or webcams.
"As long as you have at least two smartphone cameras positioned [on the subject], you'll be able to make your own 3D double," Albert says. "Any multi-angle video captured with our companion app can be sent to the HoloCloud, where it will be processed by our 3D modeling algorithm."
Albert expects HoloCloud and its companion app to be consumer ready in 12 to 14 months. By the time it's released, most high-end smartphones will be capable of shooting ultra-high definition video. The iPhone 6S will be one of them.
"The newest generation smartphone cameras shoot video in 4K, and this will become the standard soon," he adds. "You can actually capture a really good 3D model without fancy hardware, just using the device that's already in your pocket."
The startup will also release a desktop version of the app that will allow users to capture 3D content with webcams or consumer-grade camcorders, as long as they can both be connected to a PC.
Rule 34
It goes without saying that the burgeoning VR and AR movement is getting the porn industry all hot and bothered. The startup, as you can probably guess, has already been approached by several big players in the pornography industry. While he has yet to accept offers to use his platform for virtual sex, Albert's market entry strategy for Japan doesn't land terribly far away.
"Once we open the studio in Tokyo, we're gonna focus on cosplayers. We'll gradually approach other potential content creators such as maid cafe girls in Akihabara and hosts in Kabukicho," he says. "Porn companies want nudity, but VCs don't want to hear that. The maximum we're willing to go, at this stage, would be gravure idols in bikinis."
The idea is to invite a bunch of cute girls into the studio to dance around, goof off, and strike some seductive poses – for free. Their virtual 3D models would then be hosted as pay-per-view content, with the startup taking a 30 percent cut of each. If the content creators give their consent, DoubleMe will also be able to sell the 3D data so that viewers can 3D print figures of their favorite virtual reality starlet.
Albert says the startup is even building a mobile studio that can be used at cosplay and gaming conventions.
"Girlfriend makers and dating sims are very popular in Japan," Albert says. "Imagine a content creator who uploads a short video every day, like so many people already do on YouTube. If delivered as VR or AR, viewers could have a realistic 3D companion in their room. Otaku culture is an industry in Japan, but just a subculture in the US. We're gonna try this kind of thing in Japan, then scale out elsewhere with less crazy stuff later."
Side project
DoubleMe was founded in August 2014, but its technology has been in development for more than half a decade. Albert's previous startup, Zenitum, focused mainly on developing proprietary AR tracking engines – the technology that allows virtual content to be superimposed on a specific target object. It was a hit in Japan, where an app that his client companies developed was used to make movie posters and other print advertisements come to life by pointing a smartphone camera at it.
While searching for an animator to create a 3D model for one of the startup's AR engine promotions, Albert came face-to-face with the high cost of making such content from scratch.
"I needed a 3D model and the best price I could find was US$20,000," he says. "The cost to hire an animator and a CG designer can go as high as a million dollars, and it can take three or four months to get your model. That really pissed me off."
It was that frustration that led him to spin off Voxelogram as a side project in September 2009. Albert was convinced that he could leverage his background in machine vision to convert standard video into 3D content. He kept Voxelogram as a private project for the next five years, and finally rebranded as DoubleMe last year with the launch of its San Jose office. Research and development remains almost entirely in Korea and Japan.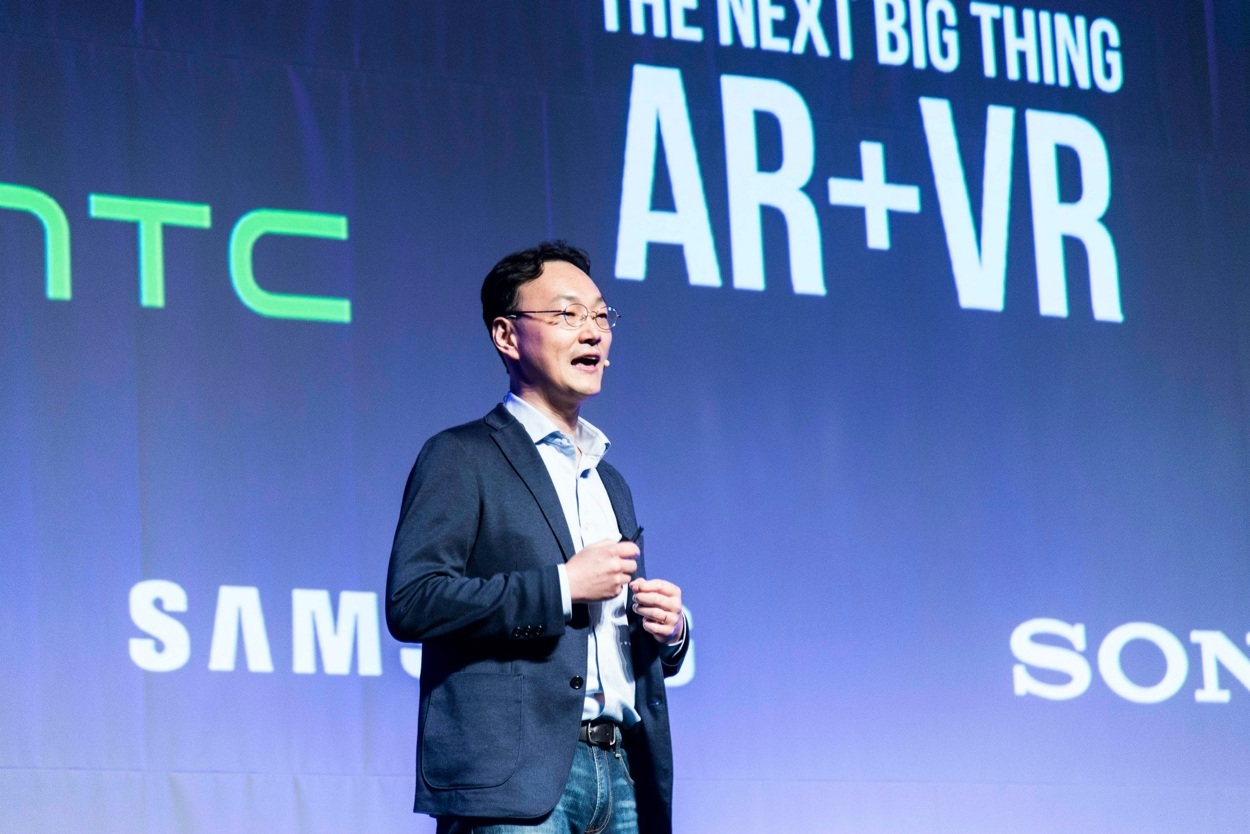 Albert on stage at SparkLabs' fifth demo day.
Albert initially tried raising funds in the Valley, but ended up attracting the attention of Seoul-based SparkLabs. DoubleMe went through the accelerator's fifth batch from March til June, then landed US$500,000 from SparkLabs Global Ventures' seed fund upon graduation. Shortly thereafter, the startup received an additional US$500,000 in research and development grants from the Korean government.
"What excites us about DoubleMe is that it's making VR content [creation] as easy as breathing," Hanjoo Lee, general partner and co-founder at SparkLabs, tells Tech in Asia. "It leverages an existing hardware base of smartphones and cameras so that anyone can create VR content instantly […] From a technological innovation standpoint, that's huge."
"From a business standpoint, people might worry about competing with the big boys, but our view is different," he continues. "If I was YouTube, Instagram, or Facebook, I'd be excited if someone came up with a technology that enabled people to instantly create VR content and share it through my platform […] These innovations will not come from just one company – it will take the entire village to get us there. We think DoubleMe will play a big part in getting us to the future."
The startup's outsized ambition has attracted advisors from major tech firms, as well as the director of USC's MxR Lab – where Oculus was born. It's currently working with the likes of Microsoft, Facebook, DMM, NTT, and Universal Studios – as well as hit musician Bjork and Japanese pop idol supergroup AKB48.
Content race
If you're old enough to remember when YouTube was nothing but cheesy Flash animation and shaky, low-res Handycam footage, you can appreciate how far the platform has come. If VR and AR are headed for the mainstream, DoubleMe could soon find itself riding a very lucrative wave into the future of home entertainment – but it had better move fast.
DoubleMe isn't the only startup that aspires to be the YouTube of VR. Just yesterday, LA-based startup Vrideo released smartphone apps for viewing VR content on Samsung Gear and other Android-based VR devices. With US$1.8 million in seed funding, the startup claims to have 300 content creators already on board – but it doesn't appear to be directly involved in content production.
On the other side of the equation is Jaunt, a VR content production startup with US$65 million in the bank. Much of that money comes courtesy of Disney, which in 2013 developed its own method for turning 2D pictures into 3D models suitable for games and animated videos (though the process is far more complicated than DoubleMe's – and only captures stationary objects).
If all else fails, there's still one industry that Mickey Mouse and the others probably won't touch that is still knocking down DoubleMe's door…