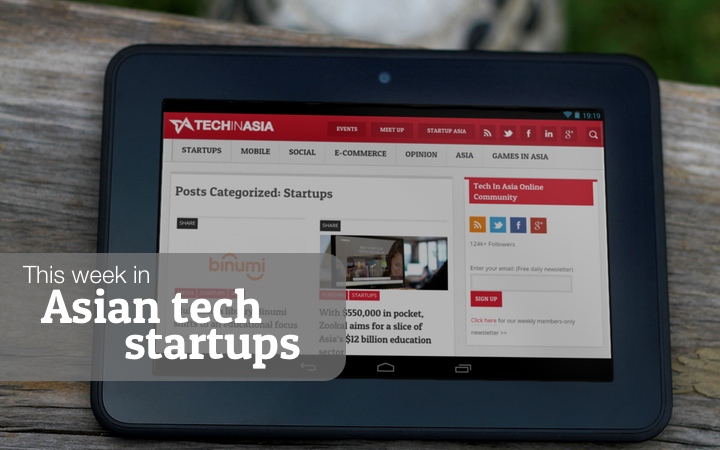 Here's our newest round-up of the featured startups on our site this week. If you have startup tips or story suggestions, feel free to email us. Enjoy this week's list!
1. DocDoc | Singapore (Techlist Profile)
Singapore-based startup DocDoc that helps patients book doctor appointments online. The company charges a monthly subscription fee for doctors that sign up.
2. Klaseko | Philippines (Techlist Profile)
Philippine startup Klaseko simplifies the school enrollment process by bringing it online. While parents do not have to stand in long lines for hours, school administrators can easily keep track of student records and payments, avoiding fraud or any leakage through corruption. Schools can also easily export their student databases, send out newsletters, school schedules, and other important announcements via email or SMS.
3. Bobobobo | Indonesia (Techlist Profile)
Indonesian lifestyle marketplace Bobobobo aims to build an ecosystem where this community can flourish by building a marketplace that focuses on lifestyle to enable these businesses to sell online. Currently, it has more than 1,000 brands across seven categories: women, men, living, travel, food, wellness, and events.
4. ReGlobe | India (Techlist Profile)
ReGlobe is a platform where people in India can sell used electronic goods. The company gives a price quote for products within a day of posting, and after a deal is finalised, arranges to have the product picked up from the consumer's home directly. The devices are then refurbished and sold to merchants dealing in pre-owned gadgets.
5. Intellihelper | Singapore (Techlist Profile)
Intellihelper is an online customer support platform that takes a leaf out of the pages of Japanese role-playing games by layering voice-guided, interactive tutorials that take the user through a website's features a step at a time.
6. Blossom | Indonesia (Techlist Profile)
Blossom collects money from investors around the globe, keen on lending money to entrepreneurs who are ready to start a small business. The company does not hand down the funds to business owners directly, but via an experienced microfinance institution on the ground. After a 12-month investment cycle, Blossom collects profits from the microfinance institutions and distributes them back to the investors.
7. TinyOwl | India (Techlist Profile)
Location-based food ordering service TinyOwl detects a user's location and delivers orders from nearby restaurants as well as home-made food from local chefs.
8. ChatWork | Japan (Techlist Profile)
ChatWork, an enterprise social network, was an early mover in the team chat and productivity space. It positions itself as a communication tool for non-technical business professionals and small-to-medium enterprises (SMEs), offering text, voice, and video chat in addition to task management and file sharing. It can be used in-browser, without the need to download software, or on mobile with apps for iOS and Android.
9. LogicRoots | India (Techlist Profile)
LogicRoots, developer of app Mathaly, helps kids get up to 20 times more math practice than what they get during classes, making them better and faster at math per game session. The startup makes money by selling its products directly to schools, and through ecommerce sites like Amazon, Flipkart, and Snapdeal and via a freemium model on its app.
10. Bookya | Malaysia (Techlist Profile)
Bookya is a startup based in Malaysia that hopes to streamline the venue booking process for live music shows so that musicians can focus on playing songs. Through a website and a mobile app, the company hopes to provide a type of social network where music artists and promoters can meet and connect.
11. Grab | India (Techlist Profile)
Restaurants no longer require their own delivery staff. All deliveries are made by employees of Grab, a Mumbai-based startup that picks up food from a restaurant and delivers it to the customer's doorstep. The two-year-old startup has a team of 500 smart riders on the roll to ensure that food is delivered in 40 minutes from the time a customer places an order at the restaurant.
12. 6degrees | India (Techlist Profile)
contact management app 6degrees looks just like a phone book. It self updates the details whenever anyone on the phonebook updates his or her profile. User can search through all their social networks in a single app. The app also helps you get introductions through friends to others in their network.
13. Robox | India (Techlist Profile)
Robox is a robotics kit that teaches kids to build robots as well as program them. It also comes bundled with robot activities that gamify science, technology, engineering, and math (STEM) concepts taught in schools.
Startup lists
14 – 18. Does crowdfunding have a future in Indonesia? We take a look at five crowdfunding sites
Related startup stories



Missing: thought leaders in Asia's tech industry



Baidu's Robin Li: VCs are trying to coax employees of China's top tech firms to do startups



Why Asian startups should know about the Disney Accelerator



This incubator is attached to Pakistan's most prestigious university. Now it wants to show what it's really capable of.



Silicon Valley tech veterans to help India's Urban Ladder ramp up innovations in furniture ecommerce



How to make an impression at Night Crawl



Singapore taps entrepreneurs to ensure elderly people aren't left out of Smart Nation program



Rocket's ecommerce giants are a huge part of virtual fitting startup Metail's strategy



Rebright Partners launches $20M fund for Indian startups, wants to be Japan's gateway to India



GrabTaxi turns up the heat on Uber in Singapore, launches new chauffeured GrabCar options



JD CEO: getting startup funding in China 'very easy,' but beware the traps



Here's why CommonFloor's founder, Google's India boss, and Amazon's India chief love this food startup



Australian accelerator Muru-D just launched in Singapore, and it's looking for startups



Powered by Singtel, this incubator wants to help social impact startups reach success



Pakistan's accelerator Invest2Innovate hails over 200 jobs created by social impact startups



Thai people aren't benefiting from cash-rich tourists. Local Alike wants to change that



PropTiger acquires rival as India's online property startups boom



Platform thinking: how to succeed in the internet age



These students are scouting for startups in tier-2 cities of India for a BITS Pilani pitch-fest



Foodpanda gets fatter with fresh $100 million



In India, edutech startups are teaching themselves how to grow



Tech in Asia Singapore 2015: your weekly roundup



Japan's GMO announces $18M startup fund



Analyze this: Tracxn helps VCs with startup discovery, gets discovered by SAIF Partners



Japanese travel operator acquires tour package search startup Flocations



Online payments company 2C2P banks US$7M in series C



Indonesian startup turns women into sales agents for prepaid phone credits
We're now gearing up for our 9th edition, Tech in Asia Singapore 2015, to be held this coming 6 and 7 May. The signature 2‐day conference, held tri‐annually in Singapore, Tokyo, and Jakarta, is also one of Asia's largest conferences organized for entrepreneurs, investors, media, and friends in the technology and startup community across the region.
Previous speakers include executives from Alibaba, Twitter, Airbnb, Tencent, DeNA, Rocket Internet, Rakuten, GREE, MOL, Cyberagent Ventures, Sequoia Capital, and more.
Already heading to the conference, here are 10 insider tips on how to prepare for Tech in Asia Singapore 2015 and all about our inaugural Night Crawl.