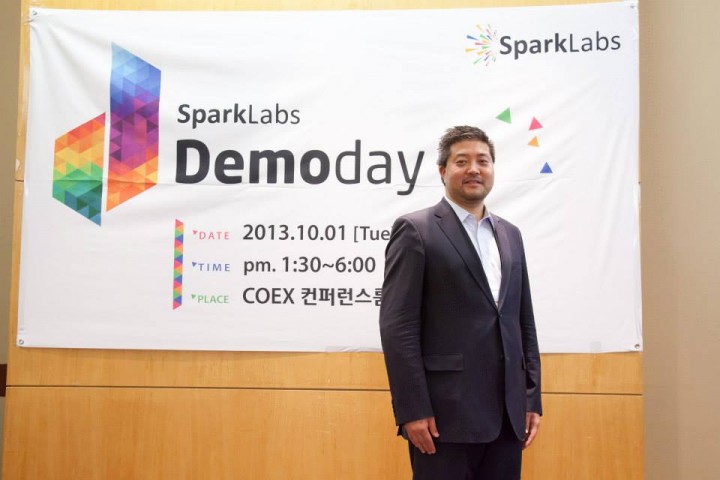 Bernard Moon, co-founder and managing partner at Sparklabs, poses for the camera at the accelerator's second demo day.
It's been a busy December for SparkLabs, the Seoul-based accelerator that
burst into the Asia startup scene
in August 2012 and quickly became a leading link between Korean entrepreneurs and Silicon Valley investors.
Last Thursday the organization, which belongs to the highly-esteemed
Global Accelerator Network
, announced nine new entrants into its third three-month accelerator program. Hailing from Tokyo, San Francisco, Chicago, in addition to Korea, the startups will each receive a $25,000 investment from SparkLabs itself, along with the usual office space, mentor relationships, and networking perks.
Then, on Friday evening, SparkLabs revealed the first two beneficiaries of its $30 million seed-stage fund, which was announced
back in October
.
With its first major investments underway and a hat trick of accelerator batches officially under its belt, SparkLabs' co-founder and managing partner Bernard Moon fired up Skype to talk to
Tech in Asia
about entrepreneurship in Korea, the Asia-Silicon Valley divide, and the art of hand-holding.
Below is a modified transcript of our discussion. Scroll down past the text for blurbs and screenshots of SparkLabs' latest startup class and investment recipients.
Can you talk a little bit about your background and how SparkLabs came about?
I've mainly been a tech entrepreneur throughout my career though I've done brief stints in finance at an investment bank and a family-run firm. In 2012, after jumping back into technology with my startup
Vidquick
, my friend Hanjoo Lee, who's a co-founder at
Hostway
, convinced me that it was time to do a
Y Combinator
style accelerator and help a lot of the Korean entrepreneurs we were seeing come out. And then I convinced him to bring on Jimmy Kim, who I did my first two startups with and was also
Nexon
's first CFO.
If he had asked me five years ago, I don't think I would have done it. But within the past five years, I've seen a change in these entrepreneurs that come from Korea.
Can you elaborate more? What are some of these changes?
They're more global, they're more bilingual and internationalized, and they also know that just because they have one million or 10 million users in Korea, that doesn't mean anything if they're going to launch in the US. They know that they'll have to take a different approach if they want to launch there. Just understanding that not everyone operates the same online or offline in different countries, basically.
For example, Nexon was the first online multiplayer game company. It produced the first MMORPG game. They came out in 1996 and created the whole micro-transaction ecosystem in the late nineties. This is just hypothesizing, but I think that since Korea was the leader in that area, but wasn't good at expanding those techniques globally beyond Asia, that was a hindrance. There might have been some sort of arrogance since they were the leaders in those fields, and assumptions that other markets would follow, without realizing that there are online behavior patterns that vary online from country to country.
Five or six years ago I would meet these entrepreneurs from Korea that were horrible at research. They wouldn't know who their competitors were on the market, or why they were successful in terms of attracting their user base. But the young entrepreneurs nowadays really take the time to know the competitive landscape, and the nuances of their competitors' success in the US.
Sparklabs, unlike some accelerators in Asia, is pretty firmly focused on taking Korean companies international or taking Western companies to Asia. Can you explain your preference for working with companies that have global potential?
The strength of our network is that it's based outside of Korea. When we launched here there were probably already three to five established accelerators in Korea, but they couldn't really help Korean entrepreneurs go global, or enter the US, Japan and China. You need an extensive network through your sector and industry within Silicon Valley to have an impact. And we have that. As a result, a basic requirement of the companies we work with is that they are capable of and willing to go global. We will pass on some really great companies if they are only targeting the domestic market.
SparkLabs is about to launch its third three-month accelerator program. How do you think the organization has changed from the first class to the third class?
When we talk to people in accelerators in East Asia, one common thing you'll see among a lot of first-time entrepreneurs is that a lot of them won't fully maximize the mentorship and networking opportunities. I think it's a cultural thing where they think to themselves, "That guy's an executive at Nike who sold two companies for over $200 million. I don't want to bother them!" In the second class, we really had to tell the entrepreneurs, "Hey, this guy has volunteered his time to help you. So take advantage of that. It doesn't hurt to ask, and if you get pushed back it's no big deal." And for the third class, we're prepared to do even more hand-holding. We've required all the startups to send an email to their mentors every week, even if its just two or three lines. Some of the entrepreneurs don't need that, but we'll do it for the ones we think need more facilitation.
In the third class there are some companies that are based in Tokyo, San Francisco, and Chicago. What are these firms' connections to Korea?
All of our startups have at least some connection to Korea. I'd say we definitely lean towards working with Korean entrepreneurs. But if there are great startups that want to enter Asia, and maybe want to start by entering Korea first, we want to be the accelerator to help them.
So there's Tokyo-based
FeelIU
and they're Korean and Japanese. And we think their product is definitely suited for Japan, and possibly other Asian countries.
What do you think makes this incoming class different from previous classes?
Well, one way it's different is now there are four or five based outside of Korea. It's also our first entry into the healthcare and medical device market. We've started seeing some applications for medical devices in the prior batch, but this startup is the first that's really caught our attention. The company is called Domo Bio. So that's also our first entry into wearable devices.
The nine companies joining Sparklabs' third batch are:

FeelU – A Tokyo-based company that makes a wearable ring that lets users give friends a virtual 'hug.'



Flow State Media – A social mobile game studio best known for the wordplay-based title "Letter Up".



Freenters – Freenters is a Chicago-based startup that provides free printing for college students at university that are required to pay for on-campus printing facilities. They've likely outgrown this video from February 2013, but we're embedding it just because we think their service is such a cool idea.



Domo Bio – Based in Seoul, Domo Bio has created a device that helps people who suffer from sleep apnea.

1Day1Song – 1Day1Song is a music discovery app that recommends one new artist to users every day.

Peopleware – Peopleware is a marketplace that connects minimum-viable product projects with engineers around Asia.

Rightzip – Rightzip is an online service that uses a special algorithm to make home rental more efficient for both tenants and owners.

RingCL – RingCL is a backend-as-a-service company for businesses with mobile apps.

And below are the two firms that received funding from Sparklabs' Global Venture Fund:

Lawpal – Lawpal is a service that connects startups with legal service providers. The company received a $400,000 investment from Sparklabs.



Memebox – Memebox is a leading online retailer of beauty products in South Korea (and it's also a friend of Tech in Asia). The company received $500,000 in funding from Sparklabs.



(Editing by Paul Bischoff)

(Image via Facebook)