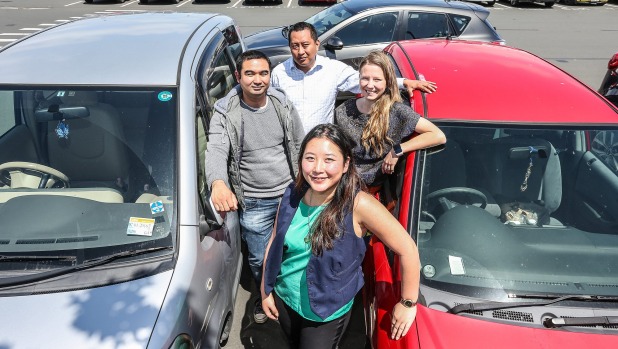 Daisy Liang, Francis Yanga, Mark Guadalupe, Marina Averkina are developing an app to tackle Auckland city's rising parking costs.
A start up aimed at reducing Aucklanders' parking woes is the latest to join the growing on-demand parking market.
Parko, previously Park Smartly, has launched a brand new website and plans to release a mobile app shortly with the aim of helping solve the perennial big city problem of parking.
The app works on the same idea as taxi app Uber and accommodation ap Airbnb. People with available space on private land create an online listing and drivers pay to park there.
One of Parko's four founders, Mark Guadalupe, said he came across the concept from a news article he read on the trend of parking app start-ups and decided to start up his own version with three friends.
Like many Aucklanders, all four have had their fair share of paying expensive inner city parking costs and Guadalupe said the motto of their company was for there to be "no more parking tickets".
Casual parking in Auckland can cost $50 during the weekday at some Wilson Parking lots.
Parking on most of Auckland Transport's parking buildings increased in August to a maximum of $24 a day, from $17 a day.
Parko will compete with rival app Parkable, and another was set to launch soon.
But fellow Parko founder Daisy Liang said Parko offered a different level of service.
"I don't see us as just another parking app. After we launch and users start using us they're going to see a key difference in user experience," she said.
Liang said the business was looking at ways to deal with potential problems like parking spaces not being available when the driver arrives, people not leaving a space on time and security and payment issues.
"We want to make sure it's all smooth before we actually go live and that's our key difference," she said.
Parko was only available in the Auckland CBD but the group had plans to take it to other parts of the country and eventually, overseas.
READ MORE: Price hike for all-day parking in Auckland
Parkable was six months old and had 450 car parks registered in the Auckland CBD area.
Director Brody Nelson said the service had been well received by local business associations and users
"We're growing every week. Our team is growing as well as new car parks," he said.
Parkable spaces around Victoria Park, for example, cost about $10 a day compared to about $18.50 a day at nearby parking buildings.
A third business, Parkbubble, plans to launch soon, according to a public relations firm acting for the company.
Wilson Parking said in a statement customers were "very discerning about where they leave their vehicles".
Wilson Parking also had an app that helped drivers find car parks that are "regulated, well-maintained, security-patrolled and supported by 24/7 customer assistance".
- Stuff