'Innovation' is a buzzword among retailers, but what actually is innovation and what does it mean for retailers?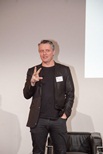 That was the question posed at the launch of retail and consumer innovation hub TrueStart last week. At the conference, R:Evolution, co-founder Matt Truman urged retailers to be at the forefront of innovation, as "technological change has never impacted the retail space as much as it is today".
He maintained that access to innovation does not have to cost the earth, and retailers should be open to new ideas in order to stay ahead of the customer.
But innovation remains a tricky concept. Unilever investment director Lisa Smith said: "In the corporate world innovation is scary. Taking risks is a difficult cultural thing to overcome."
She added: "Previously companies could organically let innovation come through the organization, but now they have to proactively manage it. Whether that's through skunkworks or venture labs, you need to find out what works for you."
Samsung head of Digital Appliance Innovation - Europe Ran Merkazy said that corporates need to find a way to de-risk failure so they can innovate. "People say it's easy for start-ups to innovate as they can fail and it doesn't matter but corporates must find their own way to manage the risks," he said. "Whether that is working with bodies such as TrueStart or finding your own internal system, it's essential in a modern business to innovate and take risks."
Understanding innovation is essential for businesses, said Salesforce chief scientist JP Rangaswami. He believes innovation follows three principles.
"Scientists would say innovation comes out of necessity," he said. "Is there a perceived need?" He used the engine as an example, to help people travel faster.
"Innovation is also driven by having an observed effect," he said. He gave the example of the invention of Velcro. Swiss engineer George de Mestral had the idea after returning from a hunting trip in the Alps with his dog. He looked at the burrs that kept sticking to his clothes and dog's fur. When he saw them under the microscope he noted their hundreds of hooks that caught on anything with a loop such as clothing or fur. He then conceived the possibility of binding two materials reversibly to duplicate the hooks and loops.
The third drive for innovation, continued Rangaswami, is for speeding up evolution. "The idea that we can speed up evolution is innovation. So, for example, instead of evolving to grow bullet-proof skin, we invented bullet-proof jackets."
Samsung's Merkazy said for his company, the focus for innovation is on the next 2 to 5 years. "We aim to disrupt categories in that time frame," he said.
He says the two key principles he believes are essential for innovation are relevance and differentiation.
Merkazy pointed to three products – a 3D camera, a night camera and a flip camera which uses a USB stick instead of cables. "Which one is true innovation?" he asked.
He said the 3D camera is different, but not relevant. "Will I give you 3D glasses when I'm showing you my pictures? I don't think so."
He said the night camera is relevant as evening photographs are popular and good to share, but it isn't sufficiently different as cameras can already take night photos.
The flip camera is innovative as it is both different and relevant, he said. "This camera has cut out the need for cables, thereby solving an annoying problem."
He added: "Ultimately, if you are asking anyone to do anything differently and the answer is yes, then you have a big problem on your hands."
SparkLabs co-founder Frank Meehan said innovation will open up true omnichannel retailing. He points to the innovation around the Internet of Things as key to omnichannel retailing.
He pointed out in 2008 the number of things connected to the internet exceeded the number of people, and by 2020 there will be 50 billion objects connected to the internet.
He pointed to an example of the Orange Chef Company Prep Pad. "This allows customers to make real time decisions about what they eat. By taking some scales and wiring them up, it became intelligent. Customers could find out the nutrition details of all the products they were eating."