SAN FRANCISCO, Oct. 18, 2016 /PRNewswire/ -- Pay By Group, a white-label e-commerce conversion tool that allows friends or family to collaborate and split the cost of any purchase, announced a $3.4 million seed round led by SparkLabs Global Ventures. SparkLabs is noted for its investments in Andela, memebox, Petnet, and others. Pay By Group, which has offices in San Francisco and Guadalajara, Mexico, was incubated at 500 Startups and CommerceInnovated, the accelerator run by MasterCard and Silicon Valley Bank.
Also participating in the round were venture firms Great Oaks Capital, 500 Startups, Payment Ventures, Amino Capital, and Kima Ventures. Notable angels in the round include Facebook VP of Platform & Marketplace Deb Lui, serial entrepreneur Karl Jacob, Thomas Lehrman of the Gerson Lehrman Group, early Twitter and Square investor Greg Kidd, Dynamic Signal CEO Russ Fradin, and Bryan Bradford.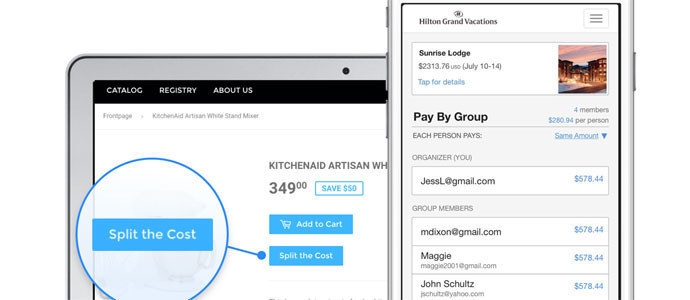 The company got its start working in the vacation rental industry by integrating with regional property management sites as an option for small groups to organize and split the cost of a beach or ski rental. Since then, the company has grown to work with enterprise clients in the vacation rental vertical (including a successful recent pilot with HomeAway, which was acquired by Expedia this year) and beyond. "We`re integrating on OTA sites both in the U.S. and abroad over the coming months," explained co-founder and CEO Camilo Acosta.
Pay By Group is an expert in getting small groups of people to convert into purchases. Across its most recent 10,000 purchases, Pay By Group converted 83% of initiated groups to paid orders. "It`s taken countless hours and been a fascinating journey to figure out how to optimize every aspect of our service to be better than any group leader or other system at turning these low-intent users into revenue for our clients," added co-founder and CRO Frank Langston.
"We`ve been really impressed by how well the Pay By Group value prop resonates around the world. The access they provide consumers with low credit limits or low bank balances to new products is particularly exciting, and their ability to execute in multiple languages, currencies, and cultural environments impressed us," said Frank Meehan, a partner at SparkLabs Global Ventures. The company can handle payments in over 70 countries worldwide.
Meehan`s comment also points at how Pay By Group differs from Venmo and PayPal, which are commonly used by friends or family when splitting costs post-purchase. The major difference with those services is that someone has to front the burden of the initial cost before seeking repayment using one of those apps. With Pay By Group, each person pays their fair share directly online and is only charged if the others commit, which eliminates the need for one person to pay up front for the group. "Fifty-six percent of Americans have less than $1,000 in their bank account. Fronting the money for a beach rental is not even an option for them," said Acosta.
Acosta and Langston are also the rare but popularized embodiment of Silicon Valley startup founders: Ivy League roommates (they graduated from Princeton University) and best friends who went on to start a company to solve a problem they personally faced. In fact, they were still roommates until recently. "We both turned 32 this year and realized it was probably time to get our own places," said Langston.