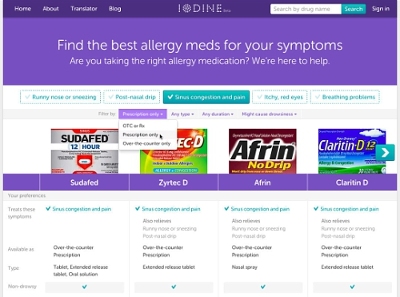 Iodine allergy tool makes it easier to find the right medication to match your symptoms and preferences.
SAN FRANCISCO, March 17, 2015 /PRNewswire/ -- Just in time for what might be the worst allergy season ever, Iodine Inc., a digital health company dedicated to making it easier for people to make good decisions about their health, has launched a new allergy tool that helps people choose the right allergy medication, based on their symptoms and preferences. The tool also taps into Iodine`s growing network of more than 100,000 user reviews to allow people to see what has worked best for people like themselves.
It`s personal: Iodine`s new tool lets people personalize their options, matching products according to their own demographics, symptoms and preferences – including age and gender, your tolerance for drowsiness, for how long you need relief, and whether you want an over-the-counter fix or prefer to visit the doctor for a prescription.
It`s easy: The tool is designed to be fast and intuitive; a few clicks and a user quickly zeros in on a few products and can compare their differences and benefits in clear, straightforward language.
It`s about solutions: There are more than 30 branded products offering allergy relief, including prescription and non-prescription remedies, and counting generics that number slips over 100. Iodine`s new allergy tool is all about narrowing a confusing barrage of products into a handful of options.
It`s trustworthy: Iodine`s data combines information from the FDA, from the pharmaceutical manufacturer, and our team of pharmacists and doctors to give people validated health information. Iodine is registered with the National Association of Boards of Pharmacy as an approved advertiser.
It`s new: This is a brand new tool powered by cutting-edge algorithms -- there`s nothing like it on WebMD, Drugs.com, or any other health sites.
The tool can be found at iodine.com/allergies
Why we launched it:
2015 could be the worst allergy season ever.
1 in 5 Americans (~ 50 million adults) suffer from seasonal allergies, a rate that is climbing annually - and should climb faster thanks to climate change.
Allergies prompted more than 13 million doctor visits last year.
Many people are taking the wrong medications for their needs: Claritin, for instance, is intended for short-term use, though many people use it long-term, when it tends to no longer work.
About Iodine
Iodine, Inc. is dedicated to giving individuals a better way to make good health decisions, built from medical research and a community of real people. The company`s online interactive tools enable individuals to gain deeper insights into their choices about medications, both prescription and over-the-counter. Iodine`s vision is to create a network of millions of people, sharing their experience with what works - and what doesn`t - towards a common goal: to make it easier to get personalized, trustworthy guidance on medical decisions, every day. Iodine was founded in San Francisco in 2013 and launched Iodine.com in 2014. The company is staffed by a team of data scientists, designers, and healthcare experts. Iodine has been called "The Yelp of medicine" by TIME. More information is available at www.iodine.com.
Hi-res screenshots of the allergy app are available in our press kit: www.iodine.com/blog/press
Photo - http://photos.prnewswire.com/prnh/20150316/182146
SOURCE Iodine, Inc.
RELATED LINKS
http://www.iodine.com