Bilingual foodie app from Korea snags funding from Softbank
Tech in Asia, October 24, 2014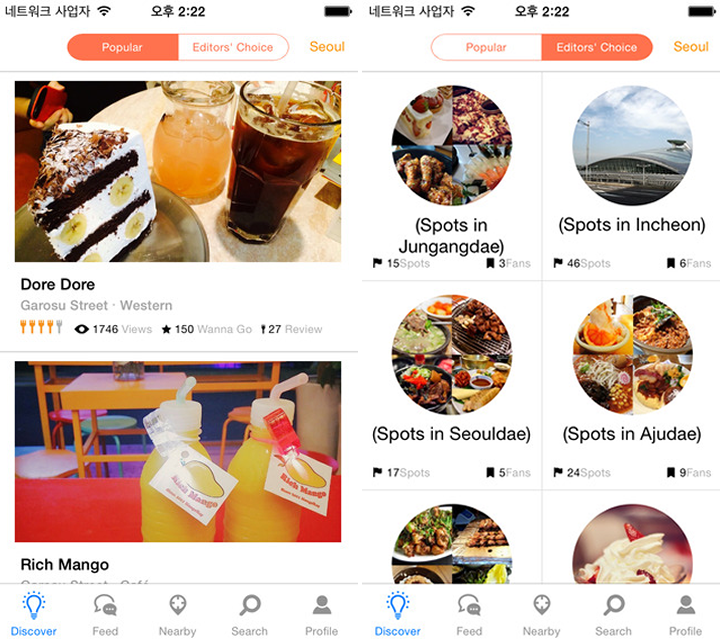 Korean restaurant discovery app MangoPlate yesterday announced it secured an undisclosed series A round of funding from Softbank Ventures Korea, according to BeSUCCESS.
Available in both English and Korean, MangoPlate's database covers 200,000 restaurants across the country, searchable with personalized restaurant recommendations based on your location and places you've eaten at before. Users can follow other members to see what their friends are eating.
The app's biggest competitor isn't another foodie startup, but actually South Korea's biggest search engine, Naver. Naver touts a much larger database of reviews and recommendations, but their authenticity is often questionable. Posting fake reviews and paying off food bloggers is a common under-the-table practice.
To curb this practice on its own platform, MangoPlate has developed a recommendation algorithm that it says will better aggregate more reliable data from user behavior and even other social networks. It combines data between users with the same tastes to build a validated profile for tastes and preferences. Additionally, MangoPlate promises not to support sponsored reviews.
MangoPlate didn't reveal any user numbers, but it's the fifth-ranked food and drink app for iOS in Korea according to App Annie. That beats rival foodie apps Poing and Yibabcha, but sits behind second-place Yogiyo. MangoPlate CEO Kim Dae-Woong says a solid local market leader has not yet emerged, and he intends to fill that position.
MangoPlate is available on iOS and Google Play.
See: Adaptive learning platform KnowRe nails $6.8M to help math students get their As (Source: BeSUCCESS)
Editing by Steven Millward