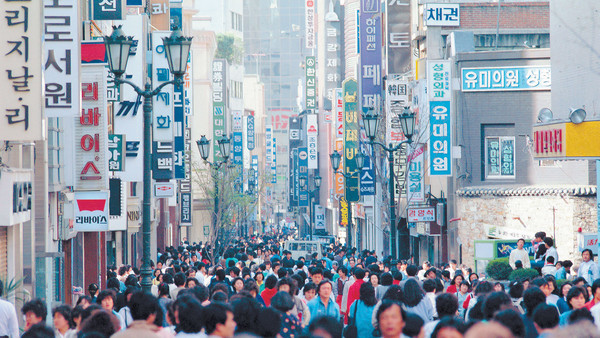 Some 65 years after the Republic of Korea was born amid a landscape of desperate poverty, its armed forces recently brought central Seoul to a standstill with a huge anniversary parade. As tanks, missiles and thousands of troops coursed through the streets of the capital, the gleaming office buildings and trendy coffee shops surrounding them bore testament to one of the past century's most stunning economic success stories.
Yet, amid the flag-waving children and the confetti, last month's display reflected the military tensions that continue to haunt the Korean peninsula and which have been unresolved since its formal division in 1948. And while South Korea's annual output has grown since then from an estimated $86 a head to $22,590 last year, it is gripped by a nervous debate over its path to continued economic development.
As South Korea has closed the gap with the rich world, its growth has slowed. A rise in GDP last year of 2 per cent is expected to be followed this year by 2.8 per cent growth, though well down on the average of more than 5 per cent in the decade leading to the 2008 financial crisis.
"Korea has come a long way by fast-following, imitating what has been done by advanced nations," says Choi Byung-il, president of the Korea Economic Research Institute. "But that road is coming to an end."
Five decades ago, the military ruler Park Chung-hee set about transforming a poor, agrarian economy by fostering a group of export-led conglomerates: the chaebol. Many of these groups have fallen by the wayside over the years, but the strongest have grown to rank among the global leaders in their fields. Samsung has shed its image as a low-budget electronics brand to outstrip Apple as the leading manufacturer of smartphones by sales. Samsung and LG dominate the global market for televisions.
Hyundai Motor Group has undertaken a similar metamorphosis, building a growing reputation for quality as it consolidates its position as the world's fifth-biggest carmaker by sales. Posco continues to expand its global operations as one of the world's leading steelmakers.
Yet, there is growing concern in South Korea about the ebbing marginal returns of this manufacturing-driven growth model. The big manufacturers' contribution to national employment has steadily declined over the past few years as production moves offshore, and the government – now led by Park Chung-hee's daughter, Park Geun-hye – is under pressure to build new growth industries.
Ms Park has based her response to this problem on the slogan "creative economy", with an emphasis on promoting technological innovation and start-up businesses.
US technology leaders including Microsoft's Bill Gates, Facebook's Mark Zuckerberg and Google's Larry Page have been summoned to the presidential Blue House this year to advise on the drive.
Policies have included tax incentives to encourage equity rather than debt investment in new technology businesses, in the hope of encouraging more stable, long-term funding that will enable start-ups to flourish.
A new stock exchange, Konex, has been established to cater specifically for fast-growing new businesses. A Won500bn ($470m) "Future Creation Fund" has been set up to provide state financial support.
Such measures are welcome and overdue, says Jimmy Kim, co-founder of SparkLabs, a start-up accelerator that provides funding and advice to new companies. "This initiative to foster a creative economy really is recognising that Korea needs to build an ecosystem for start-ups and growth. For entrepreneurs like us, it's all good signals and we're hoping they can follow through."
With world-leading levels of mobile internet speed, smartphone ownership and broadband penetration, South Korea has served as a nurturing environment to successful software ventures such as gaming group NCSoft and mobile chat app KakaoTalk.
KakaoTalk's overseas success reflects a broader regional embrace of South Korean culture. "K-pop" singers are mobbed at airports from Tokyo to Bangkok, while sales of the country's TV soap operas are expanding into markets in the Middle East and Latin America.
The glamour has rubbed off on other sectors: the cosmetics industry has enjoyed strong export growth, while growing numbers of foreign patients have treatment at the plastic surgery clinics that line streets in upmarket areas of Seoul. Conventional tourism is growing, driven by visitors from China: their numbers grew by an annual 71 per cent in the first three months of this year.
Yet, overall productivity in the services sector is weak by developed country standards. It is hoped that recently implemented trade agreements with the EU and the US will help drive competition. The legal services sector is to be gradually opened to foreign players and several of the leading US and UK law firms have set up offices in Seoul.
Movement towards a more competitive financial sector has been erratic. Karel De Gucht, European trade commissioner, said last month the EU was "very concerned indeed" about South Korea's implementation of its commitment to allow financial groups to process data offshore. Industry executives and analysts warn that government interference has consistently held back the performance of the financial sector, although some see signs of a friendlier approach under the new government.
The main reason for Ms Park's visit to London this week is to gain a better understanding of the city's global financial centre, according to Cho Won-dong, her chief economic adviser.
A stronger services sector – services employ most South Koreans – would help address concerns about a creeping rise in inequality, with average real wage growth having failed to keep pace with the broader economy. In the long term, a rise in productivity will be vital if the country is to cope with looming demographic problems.
In part because of the high cost of education, the birth rate has fallen to one of the lowest in the world, at just 1.2 children per woman in 2011.
This will radically reshape the population pyramid. If trends continue, the ratio of workers to retired people will fall from 4.5 in 2010 to 1.2 in 2050, the OECD says.
The ageing population gives one reason for long-term caution about South Korea's fiscal situation. Central government debt – low by European or Japanese standards – is ticking up, from 34.8 per cent of GDP last year to a projected 36.5 per cent next year.
Another long-term risk is posed by North Korea. Few analysts anticipate conflict, but any eventual reunification of the peninsula would impose huge expense.
For now, South Korea's relatively robust economic fundamentals – notably a strong current account surplus – are keeping it in favour with investors.