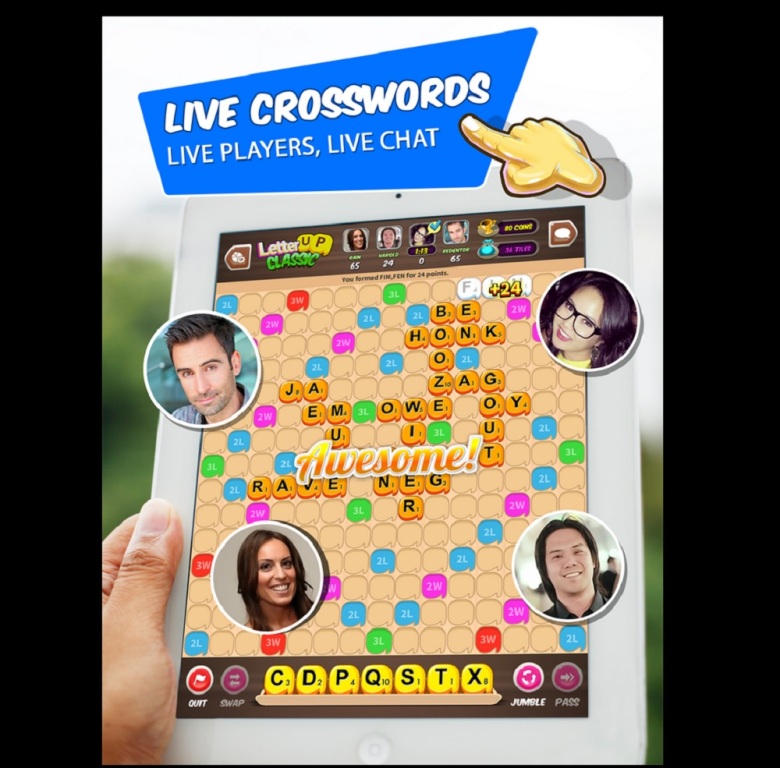 Beware, Words with Friends. Flow State Media is launching its live multiplayer word game Letter Up on iOS and Android devices today.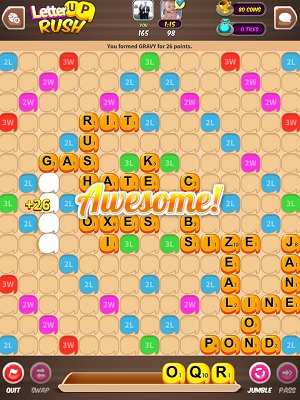 Above: Letter Up
Image Credit: Flow State Media
The free-to-play game is the brainchild of Flow State Media, a cross-platform game studio focused on casual titles. It won't be easy to take on Zynga's Words with Friends, which is one of the most popular mobile games of all time, with 55 million matches being played at any given moment. Zynga just launched a brand new mobile version of the title.
But Kahn Jekarl, the chief executive of San Mateo, Calif.-based Flow State Media, told GamesBeat that his company's free-to-play game is faster and more intense. You don't have to wait hours or days for your opponent to make a move in Letter Up. They have to respond in real time or risk losing the game. Games take under 10 minutes. If you're disconnected, the title will resume where you left off.
"Live, synchronous gaming is what we can deliver," Jekarl said.
The game already has more than 500,000 players on Facebook, where it debuted in the spring of 2013. It doesn't have spam-like ads for monetization. Players can earn an allotment of coins each day, which they use to play. If they want to play more, they'll have to purchase additional coins with real money. Jekarl said that monetization is especially good at $29 average revenue per paying user (ARPPU), a key metric in mobile games.
That's important as there are big rivals. Scrabble-like word games generate more than $300 million in revenue per year, even with a poor monetization model in mobile. More than 500 million people around the globe are familiar with Scrabble, a 65-year-old board game.
Letter Up has a "rush" mode where you can play someone in real time. It can do that thanks to its Flow Engine, which enables live multiplayer gaming.
Flow State Media's staff includes developers from Zynga and the Massachusetts Institute of Technology. The company has eight employees.
Jekarl started the company in 2012 with Redentor Quiambao, its chief technology officer. The company has raised about $833,000 to date from SparkLabs, Strong VC, F50, Meyer Capital, Iporanga Investments, and former executives of Nexon and Rockstar Games.
"Live, synchronous multiplayer gaming will dominate the mobile charts in 12 to 24 months. Live multiplayer came to dominate PC gaming, then the console market, and it will happen again with mobile," Jekarl said.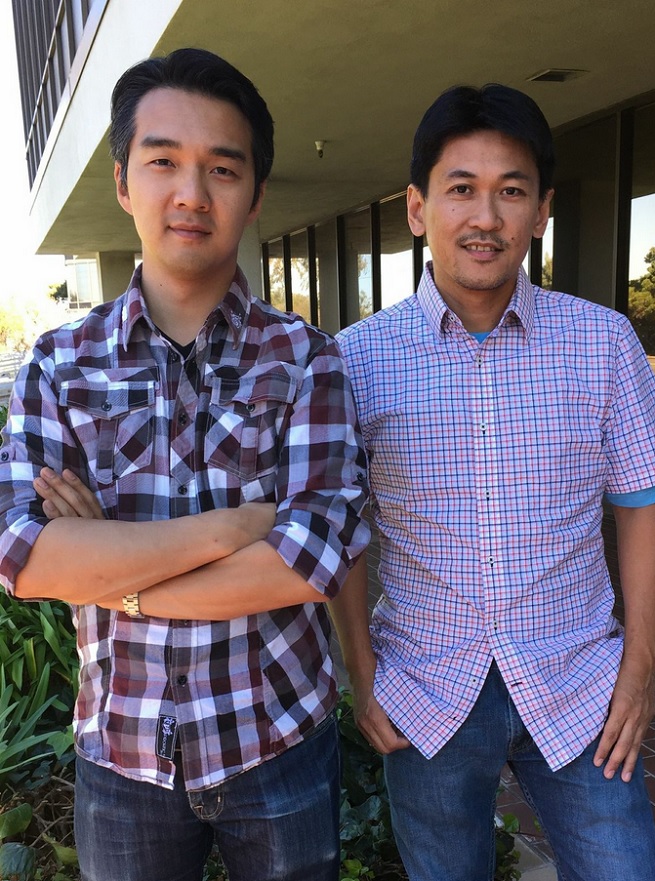 Above: Flow State Media founders Kahn Jekarl and Redentor Quiambao.
Image Credit: Flow State Media