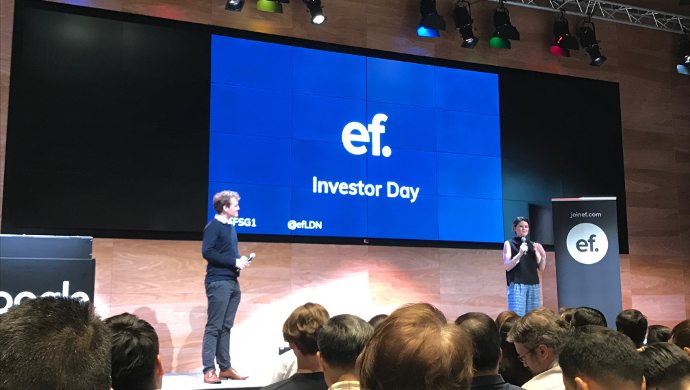 From left to right: Matt Clifford (CEO & co-founder of EF) and Alice Bentinck (co-founder of EF)
Most accelerators work on a model of helping existing teams and companies build and enhance their solutions, but Entrepreneur First (EF) takes a different approach.
It is, in their co-founders Matt Clifford's and Alice Bentinck's own words, "a place where outliers come together." Like hackathons, teams in the EF programme are built from up the ground up — meaning that talented individuals with no prior ideas or relationships with each other are paired up to work on new solutions.
Yesterday, the London-based accelerator showcased the 12 startups of its inaugural Singapore cohort in an Investor Day at the Google APAC headquarters.
In an address to a room packed with investors, the co-founders explained that EF is about bringing the brightest minds from the top universities, including PhD graduates from Ivy League schools and UK's Golden Triangle universities, to work on deep tech solutions.
They said that these individuals have the talents, but getting connected to the right co-founders and finding the right idea may be difficult, so EF aims to facilitate this process. In addition, EF supports the companies throughout the hiring and product building process.
Its model, they said, has been developed and perfected over six years.
The co-founders said that EF is not an accelerator but a company builder. They claim that over 140 companies have been built since 2013, and collectively, they brought in a total of S$380 million (US$271 million) in revenues in 2016 alone.
Also Read: Disobedience as a necessity for success, especially for social innovation
Singapore is EF's first venture outside of the UK. The republic's burgeoning tech ecosystem, reputable research institutions and universities were cited as factors favourable for EF to set up shop here.
"We support the companies for a year; you get an individual stipend of S$5,000 (US$3,570) per month for the first three months, then another S$25,000 (US$17,850) for the second three months per company. [The Investor Day] yesterday was the end of the first six months, and now we move into fundraising. SparkLabs and SG Innovate have put S$90,000 (US$64,200)…which will see them through until they raise proper seed rounds," said Anne Marie Droste, Director of Entrepreneur First's Singapore operations, in a statement to e27.
Here is a sneak-peek at the 12 solutions being developed by graduates of the world's most elite universities.
Lemnis Technologies
VR and AR headsets are flooding the market, but one major barrier to their adoption is that over 50 per cent of the users get sick within 15 minutes of usage. The symptoms usually include eye strain, blurred vision or even headaches.
Their one fundamental flaw is they cause vergence accommodation conflict, which is an eye-focussing problem.
The solution developed by Lemnis helps users receive the same visual cues that they do in the real world but in VR. In a nutshell, they are making changes to the VR lens as well as the software to tackle this problem.
Lemnis said its concept has already been tested and proven.
SensorFlow
Deploying sensors to manage energy in large buildings is a big problem. There are currently three kinds: wireless, wired, and cellular. And these equipment either take too much time to set up, or are too expensive, or they cannot be upgraded.
SensorFlow claims its system can be installed within a few days. And energy consumption can be optimised for free. It also has instant automation and a proprietary network that simplifies things — lesser modules to install.
Also Read: These 3 simple technologies are making proptech more accessible
SensorFlow claims it can help companies save up to 20 per cent of their energy bill, and it works on a subscription-based model.
UI-licious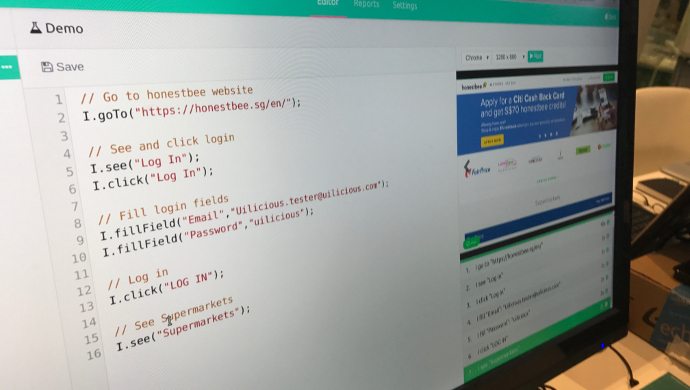 Current solutions that automate website testing are costly and often require a programmer to carry out.
According to UI-licious, only 10 per cent of companies in the software industry automate website testing, so, many websites remain faulty, which can lead to loss of revenue.
UI-licious's platform solves this pain point by creating an easy test scripting language that automates website testing without the need for a programmer. It currently has seven customers using its closed beta.
HydroLeap
In heavy industrial sectors such as construction and oil&gas, cleaning industrial wastewater is a mammoth and expensive process.
Currently, S$180 billion (US$128 billion) goes into treating wastewater, of which S$25 billion (US$17.8 billion) goes into a process called Chemical Coagulation.
HydroLeap wants to replace this chemical process with an electrical process called Electrocoagulation. It claims that it is "cheaper, faster, and easier" than the former, and could potentially save up to S$15 billion (US$10.7 billion) each year.
Immerzen Labs
In the gaming and film industry, sound design is a critical element in helping shape the user's or viewer's experience of the content. And now, with the advent of VR/AR tech, the bar for creating a believable auditory landscape has been set higher.
3D audio is essential in creating a fully immersive landscape. Immerzen Labs said that 3D sound is more than just surround sound; "the lack of it confuses the brain and shatters the illusion of presence."
Thus, using a combination of advanced signal processing, machine learning and computational optimisation, Immerzen Labs is able to "replicate natural hearing for simulated worlds."
Also Read: Scoot over, Apple: This Chinese startup's wireless earphones can rival the AirPod
It will be working with game studios and real estate companies that use VR building designs to roll out this product.
e27 gave the beta product a test run and can verify that the sound tech is eerily life-like. Two thumbs up.
KroniKare
Chronic wounds arising common diseases such as obesity and diabetes costs the healthcare industry in US alone over US$30 billion each year.
Additionally, assessment of these wounds are done by specially-trained nurses and are time-consuming; regular and accurate assessments need to be carried out to prevent complications such as infections, amputations and even death.
KroniKare's solution to this is a smartphone. By attaching a unit that has two normal cameras and one thermal camera to the phone, the app can conduct an automatic, non-invasive wound scan — with high accuracy — and send it to the patient's Electronic Medical Record (EMR) within 20 seconds.
There are no probes (so no pain), and the software leverages on machine learning and multi-model analysis.
VRcollab
Imagine sketching a 3D mansion and uploading it into a VR landscape. The client then straps on a VR headset and decides they want a bigger garage to fit their Bentleys; the architect goes into a programme, sketches, and the client sees the new garage in the simulated landscape within seconds.
This is what VRcollab is trying to achieve. They cater to architects who have no programming language and allow them to convert their sketch models into the 3D game engine Unity, then walk around in them using VR.
Also Read: Virtual reality arcades are booming in Shanghai
Currently, clients have to use a controller to "teleport" from one location to another. But VRcollab is incorporating conventional keyboard movement hot keys to allow them to move around naturally.
MicroSec
Currently, most IoT sensor networks are vulnerable to malicious attacks because they do not have adequate security. This is because there are significant constraints on their computational power and bandwidth.
What MicroSec is developing is enterprise-grade security frameworks (such as firewall) for these sensor networks. The solution relies on low bandwidth and computationally efficient algorithms, which is suitable for the low-powered sensor nodes.
Ackcio
Monitoring a construction site is a huge challenge. All faults, such as strain on retaining walls or tilt of buildings, need to be detected early or they could potentially compromise the integrity of the construction and lead to injuries or deaths.
Current solutions involve the deployment of thousands of sensors using kilometres of entangled cables, or a specialised workforce. These are expensive and time-consuming to manage.
Ackcio uses a wireless and more affordable monitoring system that is able to reduce the clients' operational costs by more than three times. They claim that their solution is also more reliable.
Currently, Ackcio is conducting trials with three industry partners in Singapore and a skyscraper design firm in Sri Lanka.
Movel AI
The fundamental problem with robots of today is that they can't perceive their environment like humans do. They see lines on a 2D plane, and that limits their usage.
Movel AI provides robots "with human eyes", creating a next-generation robot navigation software platform."
Also Read: Andrew Ng, Baidu's Chief Scientist and leader of AI, resigns in setback to company's renewed focus
"We use computer vision, deep learning, and sensor fusion for robot navigation. Our technology makes robot work in many places that not possible before: crowded places like a hospital with a lot of human traffic, or very large space like an airport where even human can easily get lost," said Movel AI co-founder Haoyu Bai.
Souschef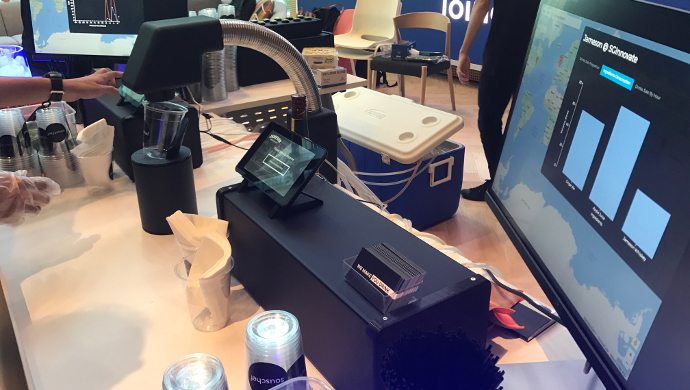 The counter lady/guy at the drinks store may soon be out of a job, if Souschef's device goes mainstream.
In a nutshell, it is a modular plug and play automated dispensing machines. Think of it as lego blocks for beverage companies. Companies can assemble them and automate the process of making complex beverages, thereby increasing revenue and cutting down manpower in the process.
Digital recipes can be updated seamlessly, and Souschef claims it offers full customisation (unlike the one-size-fit-all of current products) flexibility and easy maintenance. New ingredients can be added and integrated quickly.
Transcelestial Technologies
Wireless communications use radio waves, but they have low data rates and their signal strength degrade over distances. Fiber optics offer high-bandwidth transfer rates over long distances but they require cables.
Transcelestial Technologies is developing a very novel solution that will combine the best of these two worlds. Its revolutionary space laser network concept claims that it can transfer data 1,000 times faster than current wireless technology, across any distances.