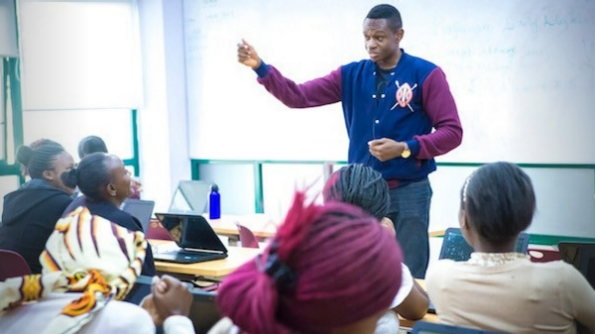 It has been widely reported that Silicon Valley, which sits at the center of the tech world, has a diversity problem. But it doesn't stop there; tech as a whole is an industry populated by mostly white males. There are also an estimated five times as many open jobs for developers and coders in the U.S. than candidates to fill them. If only there was a way to solve both challenges at once.
One startup might have just come up with a solution – in Africa. Andela, a for-profit business founded in 2014, leverages the power of the Internet to connect talented young software developers in Kenya and Nigeria with job opportunities at big tech companies.
"We consider Africa the largest pool of untapped talent in the world," says Adam Frankel, Andela's chief marketing officer and a former speechwriter for President Barack Obama. "As our workforce becomes more distributed and integrated globally, we are letting world-class companies know they should consider Africa when they have technical jobs to fill."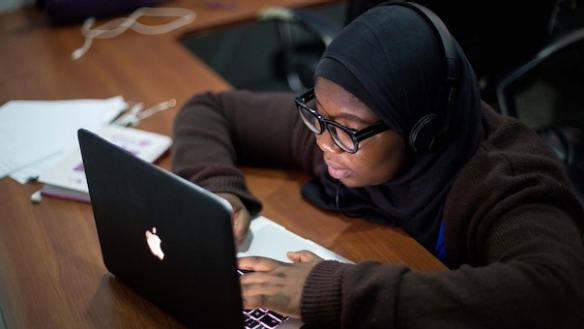 Matching Supply With Demand
Andela, which has offices in New York City, Lagos, Nigeria and Nairobi, Kenya, sprung from a group of four entrepreneurs and forward-thinkers – Jeremy Johnson, Christina Sass, Iyinoluwa Aboyeji and Ian Carnevale – who brought a variety of backgrounds ranging from tech startups to global NGOs with them to the venture. What tied them all together was a passion for education and a desire to bring new opportunities to young Africans.
More than 1 billion people live in Africa, and 60 percent of that population is under the age of 35. More sobering is the fact that in places like Nigeria, half of those young people are also unemployed.
Andela's founders recognized that if they could provide these young people with the kinds of technology training and skills that are in such high demand in places like Silicon Valley these days, they could change that equation in a hurry.
"We have found a scalable way for bright, driven young people to receive training and employment without any debt and without leaving their home countries," says Sass, who had spent years advocating for and creating new schools and academic programs in Africa as part of The Clinton Global Initiative and The MasterCard Foundation before becoming Andela's chief operating officer. "We believe this model has the power to both close global labor gaps and launch lifelong careers for thousands of young people. We are creating jobs for Africa's best and brightest through the power of the Internet."
It's a compelling proposition that has drawn the attention of investors like AOL founder Steve Case, Omidyar Network, and Spark Capital, which led a Series A round of investment in the company earlier this year. "We are solving a critical business problem with the bonus of delivering a real social impact as well," says Frankel.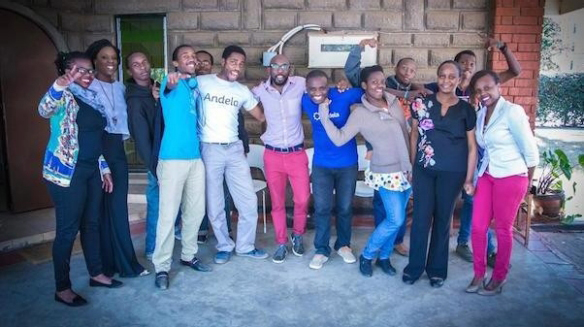 Making the Grade
Those interested in participating in Andela's program must first be accepted through a rigorous application process where less than 1 percent of new recruits, most of whom have some experience or college education, make the cut. Those fellows accepted into the program, then make a four-year commitment to the company in exchange for a competitive salary that increases along with the skills a developer accrues. Andela also starts them off with six months of intensive training covering a range of technical, business and communication skills. Once they're considered qualified, Andela fellows are then available to work for clients.
To date, Andela has accepted more than 100 fellows, with about 40 of those already working for a couple dozen clients in the U.S., Europe and Africa who have used Andela to help ramp up their staff at short notice to tackle time-sensitive projects.
"A lot of companies rely on outside resources in the U.S., Eastern Europe, and India to help with staff augmentation," says Lisbi Abraham, a former divisional CTO at AIG overseeing Andela's client engagements. "We're another option for those companies to consider."
Andela's fellows, who are about 25 years old on average, can also take advantage of subsidized food, housing and computers Andela provides on its campuses in Lagos and Nairobi. Once their four-year term is up, workers are free to pursue any job they'd like armed with a resume that shows they used their valuable skills to tackle projects for global big-name companies.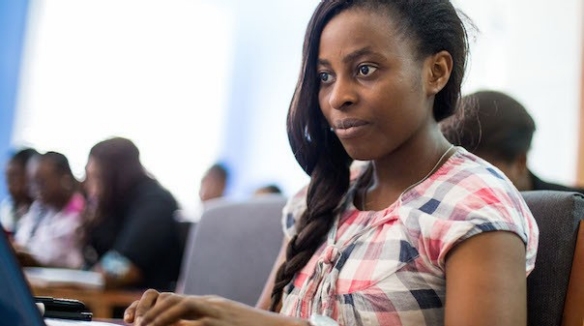 Bridging the Gender Gap
Sass is particularly passionate about creating career opportunities in tech for young African women. "We need true career paths beyond entry level jobs for them," she says.
Sass's goal from the start has been to have a 50/50 mix of men and women in Andela's program, and she has mounted an aggressive campaign over the past year to get more women to consider software development as a plausible career path. That included hosting an all-female boot camp, a free two-week Web-development training program, to build awareness about the benefits of working in tech that includes good pay, a safe work environment, and a schedule flexible enough to raise a family.
"Right now 24 percent of our software developers are women," says Sass. "That's great by local standards but not good enough for us. We have a long way to go, but I couldn't be more thrilled with the women we have in the program today."
One of those women on the rise is Rukayat Folashade Sadiq, a 22-year-old Nigerian who lives in Lagos. Prior to applying to the Andela program, Sadiq had been teaching STEM (science, technology, engineering and math) to students in the rural western region of the country. She says she heard about Andela from a former classmate from college who was already enrolled in the program. Her friend sent her information about the boot camp Sass was holding because he knew Sadiq had long been interested in programming. When she learned what Andela was offering, she was hooked.
"The fact that I would be able to help people solve problems and promote positive change in society got me totally interested in the program," she says.
Sadiq says the training she has received so far from Andela has been unlike anything she had seen before. She has been exposed to everything from the basics of computer science and software development to a range of programming languages like JavaScript and Ruby on Rails.
"It is 100% practical," she says. "For every module we learn in training, we need to build something to prove we understood the concepts. The most intriguing part of the training is encouraging collaborative efforts, or, in other words, grooming high-quality team players."
Working on her own and as part of a team, Sadiq has also had the chance to work on a number of client projects such as a team management app, a hospital appointment-scheduling app, and work-culture-improvement app.
When she graduates from the Andela's fellowship program, Sadiq says she wants to apply her new skills to helping solve her country's energy needs.
"Right now there is a deficiency in power and energy generation and supply in Nigeria," she says. "I hope to be able to contribute to solving that problem."
The Best is Yet to Come
It's fellows like Sadiq that get Sass excited about the future as the ripple effects of Andela's efforts to groom thousands of world-class developers begin to take hold across the continent.
"We want to create a movement of young technologists and leaders that will change what people think is possible in Africa," says Sass. "They are going to do incredible things."